For, behold, I create new heavens and a new earth: and the former shall not be remembered, nor come into mind. Isaiah 65:17

"And God said, Behold, I have given you every herb bearing seed, which is upon the face of all the earth, and every tree, in the which is the fruit of a tree yielding seed; to you it shall be for meat. Genesis 1:29

"Let your food be your medicine" -Hypocrites

Copyright 2012 Jon Wade Shumway
Our Nature Campus

During your stay at New Earth Wellness Retreat, you will be free to roam the 140 acre of brook-side natural beauty.
Year around nature adventure await you in the temperate foothills of central California. At an elevation of 2500 feet, you will generally be above the valley fog and below the snow-line in the Winter. Spring & Fall offer ideal weather and in the Summer, mountain creek-side air offers relief from the heat.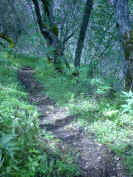 Miles of walking trials provide incentive to enjoy the beauty of God's creation and the benefits of physical activity in the fresh air and sunshine.
Wild Blackberries are a summer treat for New Earth guests, enjoyed fresh or in a health friendly dish such as a whole-food wild blackberry crisp!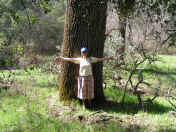 Old-growth oak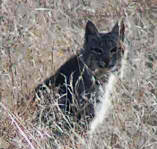 Bobcat- A shy example of the wildlife that haunt the woods.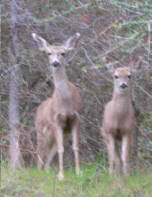 Mule Deer are graceful residents of the hill and hollows along the creek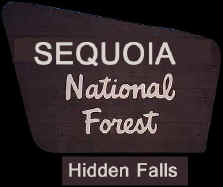 Sequoia National Forest
Adjacent to an "island" of the Sequoia National forest where you will find at the end of a 5-10 walk a series of hidden falls.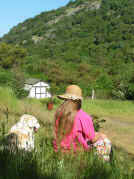 Walking amid the beauties of nature is one of the greatest elements to a healthy lifestyle. Guests enjoy daily nature walks as an important components in learning and experiencing their new lifestyle. Their is no better exercise than a pleasant walk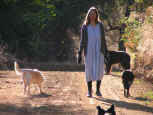 among the beauty and wonder of creation.
Sequoia National & Kings Can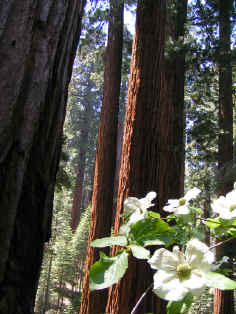 yon Parks
Guest who can stay for at least two weeks have the opportunity to enjoy the wonders of world famous Sequoia National & Kings Canyon Parks. The half hour drive to the park entrance opens to the visitor the unique adventure of exploring the largest living trees. Some of these have existed since before the birth of Christ and have a diameter of more than 40 feet!
Land of Giants
In this land of giants, a sense of the smallness of man and the greatness of the Creator is impressed upon the soul. Yet even more wonderful is to know that he loves us more than life itself, and that even while we are yet his enemies
Your host & Hostess take a break with animal companions at falls in hidden canyonette.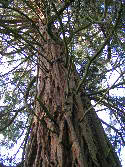 Majestic Incense Cedars grace the hillsides and banks of the Mill Creek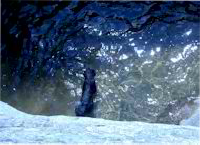 Pool at base of the hidden waterfall
Chase, the resident Border Collie enjoys a break in the clear, cool water.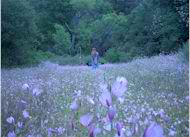 Farewell to Spring
A stroll through a field of late Spring flowers.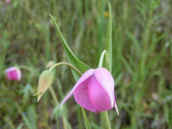 This is one of the many beautiful flowers that are found at New Earth- see our flower page for more!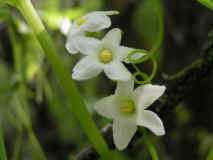 Wild Cucumber
Your host & Hostess take a break with animal companions at falls in hidden canyonette.