For, behold, I create new heavens and a new earth: and the former shall not be remembered, nor come into mind. Isaiah 65:17

"And God said, Behold, I have given you every herb bearing seed, which is upon the face of all the earth, and every tree, in the which is the fruit of a tree yielding seed; to you it shall be for meat. Genesis 1:29

"Let your food be your medicine" -Hypocrites

Copyright 2012 Jon Wade Shumway



Nutrition- A completely vegetarian whole-Food diet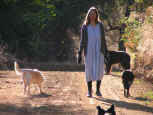 Exercise of Body- Physical activity, work recreation out of doors.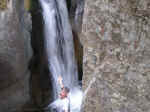 Water- cleansing & healing.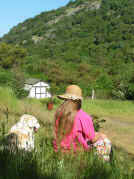 Execise of Self-Control- Freedom from salvery to distructive habits.

Air- Breath deep the breath of life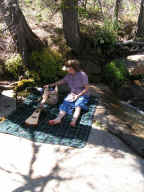 Rest- Peaceful, rejuvinating essential of health of body, mind and spirit.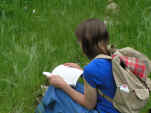 Trust in our all-wise and loving Creator.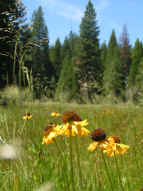 Heavenly Sunshine- Life and health depend upon it.
We at New Earth Wellness embrace the Creator God, who is the source of all wisdom, joy, peace, and harmony. When we place ourselves in harmony with his natural and spiritual laws, we learn the fullness of what we were made to be. We can only reach our fullest potential when we place ourselves in the center of his all-wise and all-loving will.
We believe that optimal health of mind, spirit and body can only be experienced when one is enjoying a life that is in accord with the principles of life by which all nature is guided. From the plants to the stars all nature is governed by immutable laws. These are not looked upon as restrictions but the true blessing they are. If the law of gravity were suspended all living creatures would soon perish. So it is with all of God's laws. We place ourselves in the stream of blessing when we learn the principles of life and joyfully bring ourselves in to agreement with them. This includes right principles of eating, drinking, physical activity, enjoyment of fresh air, sunshine and rest.
These principals can be easily memorized using the acronym NEW EARTH:
Nutrition - A whole food complete vegetarian diet
Exercise - Physical Activity that execises, bone, muscle, heart and lungs
Water - Used as a beverage, bath or as a form of simple hydrotherapy
Exercise of Self-control - Includes moderation in food, clothing, work, regular hours & in judicious physical activity; abstinence from all harmful drugs, including caffeine, tobacco & alcohol .
Air - Fresh, clean, invigorating air.
Rest - Adequate sleep, Rest from the cares of daily life on the Lord's day of rest, relaxation amid the beauties of nature.
Trust - Trust in God. Escape the worry by casting your cares upon God, for he truly loves you and will supply your every need.
Heavenly Sunshine - The beneficial rays of the sun rises vitamin D, improves mood and lowers cholesterol .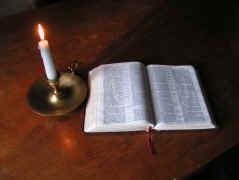 The Original Diet for Man and Beast
And God said, Behold, I have given you every herb bearing seed, which is upon the face of all the earth, and every tree, in the which is the fruit of a tree yielding seed; to you it shall be for meat. And to every beast of the earth, and to every fowl of the air, and to every thing that creepeth upon the earth, wherein there is life, I have given every green herb for meat: and it was so. -Genesis 1:29-30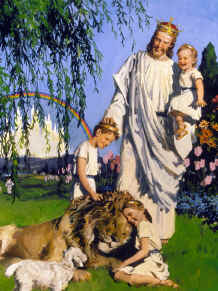 In The New Earth
For, behold, I create new heavens and a new earth: and the former shall not be remembered, nor come into mind. -Isaiah 65:17
And it shall come to pass, that before they call, I will answer; and while they are yet speaking, I will hear. The wolf and the lamb shall feed together, and the lion shall eat straw like the bullock: and dust shall be the serpent's meat. They shall not hurt nor destroy in all my holy mountain, saith the Lord. -Isaiah 65:24-25
The wolf also shall dwell with the lamb, and the leopard shall lie down with the kid; and the calf and the young lion and the fatling together; and a little child shall lead them. And the cow and the bear shall feed; their young ones shall lie down together: and the lion shall eat straw like the ox. And the sucking child shall play on the hole of the asp, and the weaned child shall put his hand on the cockatrice' den. They shall not hurt nor destroy in all my holy mountain: for the earth shall be full of the knowledge of the Lord, as the waters cover the sea. -Isaiah 11:6-9
For as the new heavens and the new earth, which I will make, shall remain before me, saith the Lord, so shall your seed and your name remain. And God said, Behold, I have given you every herb bearing seed, which is upon the face of all the earth, and every tree, in the which is the fruit of a tree yielding seed; to you it shall be for meat. And to every beast of the earth, and to every fowl of the air, and to every thing that creepeth upon the earth, wherein there is life, I have given every green herb for meat: and it was so. -Genesis 1:29-30
Nevertheless we, according to his promise, look for new heavens and a new earth, wherein dwelleth righteousness. Wherefore, beloved, seeing that ye look for such things, be diligent that ye may be found of him in peace, without spot, and blameless. -2 Peter 3:13-14
And I saw a new heaven and a new earth: for the first heaven and the first earth were passed away; and there was no more sea. And I John saw the holy city, new Jerusalem, coming down from God out of heaven, prepared as a bride adorned for her husband. And I heard a great voice out of heaven saying, Behold, the tabernacle of God is with men, and he will dwell with them, and they shall be his people, and God himself shall be with them, and be their God. And God shall wipe away all tears from their eyes; and there shall be no more death, neither sorrow, nor crying, neither shall there be any more pain: for the former things are passed away. And he that sat upon the throne said, Behold, I make all things new. And he said unto me, Write: for these words are true and faithful. And he said unto me, It is done. I am Alpha and Omega, the beginning and the end. I will give unto him that is athirst of the fountain of the water of life freely. He that overcometh shall inherit all things; and I will be his God, and he shall be my son. -Rev. 21:1-7